On June 24, 2022, the Supreme Court of the United States released a ruling overturning Roe v. Wade. On July 3, abortion clinics in Texas were forced to cease operations, and as of August 25, our "trigger law" is officially in effect. The law bans abortion from fertilization and criminalizes any attempt by a medical professional to perform, induce, or attempt an abortion, and it increases the penalties for performing an abortion up to life in prison. The trigger law also says that the attorney general "shall" bring a lawsuit to seek a civil penalty of no less than $100,000 per abortion performed.

On this page, you'll find more information on what abortion access will look like post-Roe in Texas, answers to some common questions, tips for talking about abortion, details about state-based events and rallies, and more.
While there is still much uncertainty in the wake of Roe v. Wade's fall, there is one thing we do know: Our fight to make abortion permanently legal, safe, and accessible for everyone cannot and will not stop. Our care for our communities cannot stop.
---
Pledge to Protect & Support Abortion Access in a Post-Roe World
---
Rally, Actions & Events Calendar
This section will be updated as we learn about new events and rallies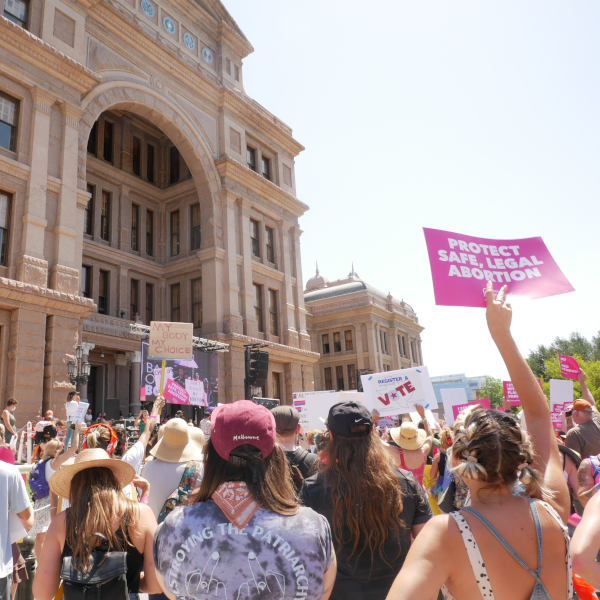 ---
Read More About Our Reproductive Justice Work
Visit our blog to learn more about our current & past work to fight for reproductive justice and destigmatize abortion care pre and post-Roe.
"There is no alternative to abortion. Plan B is not an alternative to abortion. Adoption is not an alternative to abortion. Baby supplies are not an alternative to abortion." Content warning: sexual assault, forced birth,…
---
Commonly Asked Questions & Tips for Talking About Abortion
This section will be updated as we learn more about what a post-Roe world in Texas will mean for the community.
---
"For years, we have known that the day when abortion access would be challenged, and possibly stolen, at the Supreme Court was coming. Still, it is devastating to learn that the far-right's totalitarian vision for the future has come to fruition with the U.S. Supreme Court's official ruling to overturn Roe v. Wade.
"We know that the majority of the country opposes abortion bans, but far-right politicians continue to criminalize and weaponize our bodies for political power and control–a tactic we're all too familiar with in Texas, where a six-week abortion ban has been in effect since September 2021. We also know that while Roe deserved to be protected, legality alone has never been enough to provide equitable access to abortion care for Black, rural, LGBTQIA+, and other historically marginalized communities. We will never stop fighting for policies that let all people know they are trusted to make their own pregnancy decisions.
"Abortion is healthcare and it should be a protected, accessible right for everyone. While today we mourn this loss and the Court's failure, we must transform our grief into action by caring for our communities, taking our rage to the ballot box, and continuing to fight in the courts, in Congress, and at the state legislature for changes that protect our right to abortion once and for all."